Rain and Sun Weta Dinghy Covers are manufactured in heavy duty, high grade, U.V. resistant, P.V.C. coated polyester for long life. Rain and Sun Weta Covers are tailored for an accurate fit. All necessary fastenings, including release buckles webbing nylon quick and under hull straps are supplied. Weta Dinghy Covers are held in stock. Others we can manufacture within a week. We produce Long life, UV Protected, Waterproof, All weather and Anti fungicidal Weta covers.
We also manufacture the full range of Weta Dinghy Covers in breathable cotton/polyester.
Weta Dinghy Covers can be purchased in a wide variety of material and colours from Acrylic canvas, cotton duck canvas, pvc polyester, pu coated polyester and nylon.
We are very aware of the importance of keeping your Weta Dinghy well protected when it is not being used, and have designed our covers accordingly.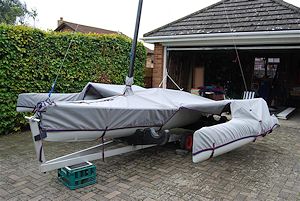 Weta Dinghy Covers produced:
| | |
| --- | --- |
| | Weta Mast Down Cover |